=== Rückblick auf unsere Ausfahrt mit der "Oskar" am 01.07.2022 | English version below ===
Es ist ja mittlerweile (fast) schon eine gute alte Tradition, dass wir vor der "Rhine Pride" immer auch eine Fahrt mit der (etwas kleineren) "Oskar" machen, um nachzuschauen, ob der Rhein immer noch da fließt, wo er im Vorjahr noch geflossen ist – und um überhaupt sicher zu gehen, dass alle Beteiligten wissen, wie so ein Boot überhaupt funktioniert und was mensch beachten sollte, falls ein Reiher vorbeifliegt (√ – check*) die Feuerwehr vorbeifährt (wieder √ *), der Polizeihubschrauber vorbeifliegt (noch ein √*), das Boot sinkt (ist nicht geschehen – puuuhhh).
* das haben wir natürlich alles für Euch im Vorfeld organisiert – war zwar nicht einfach, aber der Aufwand hat sich gelohnt… 🙂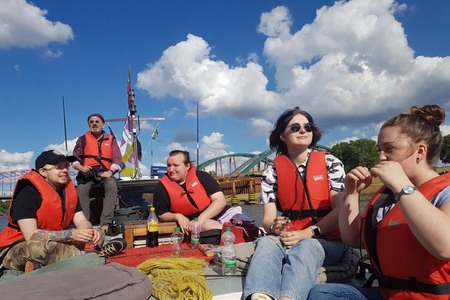 Also haben wir uns am 01.07.2022 – diesmal sogar relativ pünktlich – am "Rheinfels"-Anleger im Eisenbahnbassin getroffen (-> der Anleger war noch da √) und sind nach erster knallharter Einweisung (-> alle Schwimmwesten vorhanden √) durch Kapitän Rolf dann erst einmal auf die andere Rheinseite geschippert, um nachzuschauen, ob das Laborschiff "Max Prüss" dort noch brav liegt, um gelegentlich das Wasser auf seine gesundheitliche Verträglichkeit zu testen (-> yup, es war da, Ihr seid sicher √) Danach ging es dann entspannt den Rhein hinauf, vorbei am Rheingold, öhm… "Rheinorange" (steht noch da, also √ – aber wartet, bis die goldene Müllzange kommt… 🙂 weiter bis zur im Bau befindlichen Rheinbrücke Neuenkamp, bei der offensichtlich noch ein paar Teile fehlen… (kein √)
Auf der Rückfahrt hatten wir dann unsere Begegnungen (der dritten Art) mit der Wasserschutzpolizei und anschließend einem Polizeihubschrauber, wobei wir bis heute nicht wissen, wen oder was unsere Freunde und Helfer im oder am Rhein gesucht haben – wir haben jedenfalls brav gelächelt und eine lustige Melodie gesummt und so zog das Schicksal gnädig an uns vorüber.
Ich merke gerade, wie ich in Schwung komme und noch stundenlang Seemannsgarn für Euch spinnen könnte, aber ach, wer von Euch will das alles lesen? Yup, dachte ich mir… Deshalb breche ich an dieser Stelle gnädig ab und empfehle Euch, Euer Augenmerk stattdessen auf die Fotos zu richten, mit denen wir Euch an einigen unserer Eindrücke beteiligen möchten.
Was ich Euch ebenfalls dringend empfehlen möchte, sind unsere weiteren beiden Termine im Rahmen unseres "Rhine Pride Summer Specials", nämlich
sowie natürlich unsere
Für alle Aktionen gilt: Seid mit dabei oder ärgert Euch im Nachhinein, dass Ihr es verpasst habt… 🙂
Bis bald – wir freuen uns auf Euch!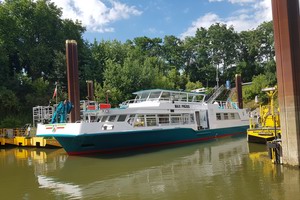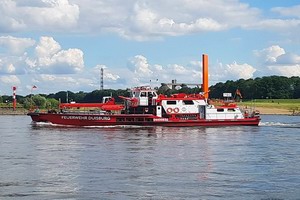 === English version: review of our journey with the "Oskar" on Juli 1st, 2022 ===
It's now (almost) a good old tradition that we always take a trip on the (slightly smaller) "Oskar" before our "Rhine Pride"-event to see if the Rhine is still flowing where it has flown last year – and to make absolutely sure that everyone involved knows how a boat works and what people should pay attention to if a heron flies by (√ – check*), the fire brigade drives by ( √, again*), a police helicopter flies by (yup, √*), the boat is sinking (didn't happen – puuuhhh).
*Of course we organized all of that for you in advance – it wasn't easy, but it was worth the effort… 🙂
So we met on 01.07.2022 – this time even relatively punctually – at the "Rheinfels" pier in the "Eisenbahnbassin" (railway basin) and -> the pier was still there, check!) and after the first tough briefing (-> yup, all life jackets were available, √) by Captain Rolf we "sailed" to the other side of the Rhine to see if the laboratory ship "Max Prüss" is still moored there, to occasionally test the water for health compatibility (-> yup, it was there, you're safe, √) Then we went relaxed up the Rhine, past the Rheingold, um… "Rheinorange" (-> it's still standing there, so √ – but wait for the golden garbage tongs to arrive… 🙂 further to the Rhine bridge Neuenkamp, ​​which is currently under construction and where obviously a few parts are still missing… (no check!)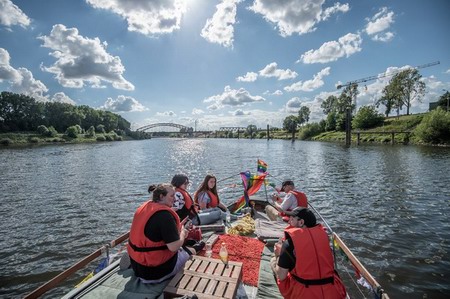 On the way back we had our encounters (of the third kind) with the water police and then a police helicopter, although we still don't know who or what our friends and helpers were looking for in or at the Rhine – we just smiled humming a funny melody and so fate mercifully passed us by.
I'm just realizing I'm getting into the swing of things and could spin hours of sailor's yarn for you, but oh, who of you wants to read all this? Yup, guessed that… That's why I graciously stop at this point and recommend that you instead direct your attention to the photos, with which we would like to share some of our impressions with you.
What I would also like to urgently recommend to you are our other two events as part of our "Rhine Pride Summer Special", namely our
and of course our
The following applies to all promotions: be there or be annoyed afterwards that you missed it… 🙂
See you soon – we look forward to seeing you!